We manufacture custom pullout sliding shelfs in Phoenix Arizona to help organize your kitchen shelving, your pantry and your bathroom cabinets. Slide out trash and recycle systems. Kitchen pull out storage accessories and organizers. Lazy Susans for pantry cabinets, tray dividers, tip outs, recycle centers to blind corner storage systems, Kitchen-Shelves is your place to turn for all of your slide out storage needs. Rolling-shelves make getting to the back of your cabinets a breeze. Whether you need help due to a bad back pain, sore knees, a bad hip or you just want to get your kitchen cabinets organized, pull out shelves are what you need. After organizing your cabinets with our custom slide-outs, you will want to keep it going with a slide out trash system or maybe a blind corner lazy susan to reclaim the lost space in that dead corner cabinet. How about a spice drawer insert for your drawers or a mixer lift shelf for your food processor or mixer? Don't forget your computer desk, need a keyboard tray? Our basic sliding shelfs work great for storing your printer or scanner and you can even use them for a pull out keyboard tray and mouse pad. We have the storage solution you have been looking for! We even have our do-it-yourself installation instructions and measuring guide for installing your pull-outs. Keep checking back as we continue to grow and add kitchen organizer items such as drawer organizers and other kitchen organization products. We are a quality company that only sells high quality products. Our goal is to be the pull out shelf company that offers the widest range of kitchen shelves that make sense and that are both affordable and have the high quality that you will come to expect from Kitchen-Shelves. Do it yourself and save money with quality pull-out shelving systems from a name you can trust. We will not offer you volume discounts on our shelves that slide, we want you to order just one or two shelves for your first order. We are comfortable that our quality will bring you back for more and we want to be sure you have measured correctly. We already discount all of our custom pull out shelves by selling them manufacturer direct to you. We offer the DIY guarantee because we are sure you will come back to order more after you see the quality of our slide out shelving from Kitchen Shelves.
---
We love it! Will be ordering several more. Well made and really easy installation. Makes it really easy to reach things at the bottom of the cupboards. Super fast delivery too.
Thanks!
Margaret Schaffer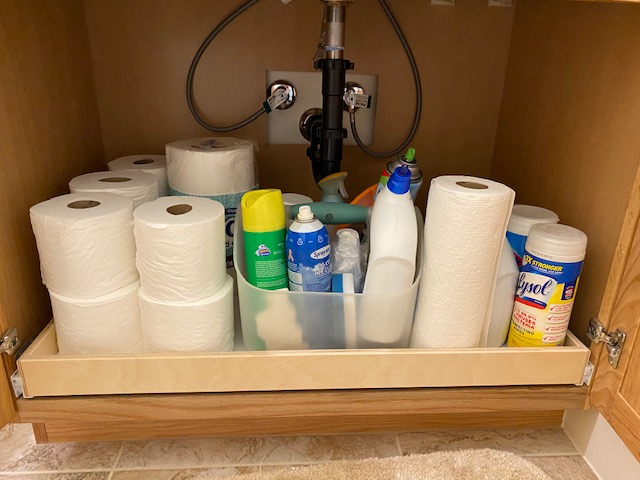 ---
Steve,
The pantry with your pull out shelves is done! It turned out great! Thank you so much for all your help on my project. I absolutely love it!
Have a great rest of your week!!
Deb Voegtline
<![if !vml]>
<![endif]>
---
Hi...not sure where I can leave a comment.
We received our drawers when you said they would, they were packed terrifically! The quality is excellent. We are so happy with them!!! Would definitely recommend them and we feel the price was good. Debra Kewley, FL
---
Hi Steve,
I just wanted to thank you for my beautiful shelves!!! They are just perfect!!!
Lori Bruno
---
Also want you to know every shelf fit perfectly. Our cabinets are a Champaign color and the birch match is great. It was a tiring job for a 73 year old but the reward was worth it. Mainly because your craftsmanship is high end.

Bill
---
Hi there,
Quite impressed with your economy shelves! We installed 9 today, 5 base-mounted and 4 half-shelf mounted, great QC control on your dimensions, they fit perfectly. And the slight dip at the back of the track pulls the shelf in at the end when closing. VERY nice!
Just one question: instructions say one screw in each bracket first, in the L-R opening so it can be adjusted for a smooth glide, then one screw in the center when all four corners are lined up. So that is two per bracket and we have a lot of extra screws that were sent with the order.
Should we put more than two in each bracket? Maybe more in the rear that will get the most mechanical stress?
thanks
Terrell V.
Answer: Two screws per bracket is sufficient. It will not hurt to add a third for the rear brackets
---
Thanks so much. Perfect shelves that pull out.
DS
---
I want to thank you for a great product and excellent customer service - so rare these days. The shelf was easy to install. I'd bought online a huge toaster oven for the open shelf under my range that was formerly occupied by a microwave oven. I didn't know until I received the toaster oven that it needed to have 6" of space all around it. Kitchenshelves.com came to the rescue, and now I finally can safely bake after the oven glides out on its Kitchen Shelf!
Lucy Gregory Doll
Burnsville, NC
---
Hi Steve
Thanks for your late night reply, much appreciated. So today I fitted the shelves after you giving me the all clear. Not only do the shelves fit, in fact they fit perfectly - you did well for me on this, so thanks very much.
I am very very happy with the shelves, the end result is better then I expected.
Well done you guys. Have a great weekend and happy holidays.
Best regards
Ross
---
Steve, I am a dumb old woman who cannot bend over to get to the lower cabinets. Thank you for your assistance. I really appreciate you. By the way, I love the pull outs. Most people my age are worried about pull ups and here I am worried about pull outs! Have a great day and weekend.
Myra Burke
---
This will make 16 of your shelves I will have installed in my wife's kitchen! She loves them
Paul Zimmerman
Wiggins, CO
---
Received the shelves Friday. Quick turnaround! Beautifully made and packed well. I installed them without much difficulty. The instructions were actually understandable! (Loved "the plastic thing" instead of some builders term for the part!!). They fit perfectly and look & work great! Can't tell you how much I appreciate a company who has quality products at such reasonable prices.
Jo Nyman
---
Hello,
This is a little late...but I just want to tell you that the sliding shelf worked perfectly and was easy to install. We put our 40 lb KitchenAid mixer on it and the shelf handles it like a dream.
Thanks for your great product and easy to follow instructions.
Kind regards,
Tom
---
Hi Steve,

Shelf received yesterday and installed this morning. Perfect fit, installation a snap!

Thanks again.

Saul
---
Hi,
Just sent in my second order to your company for more shelves for my new kitchen cabinets. We opted for in-stock cabinets from a big box home improvement store. The price was substantially less than ordering custom cabinets. The only thing lacking were the pull out shelves. I was so happy to find your website and all the people that took the time to post their comments and pictures. My first order of 4 shelves arrived within two weeks, they came with no damage due to careful packaging. My husband was impressed with the quality and workmanship as he is a finish carpenter and furniture builder. (He would make me some but I am keeping him busy with a whole house renovation). Installation was easy, no hassles!
Thank you for offering a great product at a reasonable price!
Sandra in N.H.
---
Shelfs, shelfes shelv